"
Look at this example of one of Keith F's fine selection of gold-plated and gem-encrusted guard scorpions! Any adventurers that cross this scorpion's path will take a sting from its 24 carat tail! Scorpions fire a beam of pointy, nasty sting energy in any would-be intruder's direction. They can hit adventurers from across the room! Affluent annihilation!
"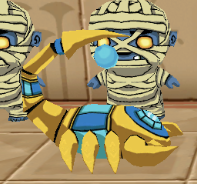 The Scorpions are one of the monsters in TombQuest. They're in a picture posted in the article, The Stone Warrior by Admin Gavin B(rown), and were in Lifestyles of the Entombed and Famous #2 - Keith F.
Ad blocker interference detected!
Wikia is a free-to-use site that makes money from advertising. We have a modified experience for viewers using ad blockers

Wikia is not accessible if you've made further modifications. Remove the custom ad blocker rule(s) and the page will load as expected.