The TombQuest website is a part of Scholastic's multi-platform, along with The 39 Clues, Spirit Animals, and Infinity Ring.
The website has a home page, where you can find lots of info and links to other parts of the website. It also contains a list of the books, a Meet the Author section, a forum where you can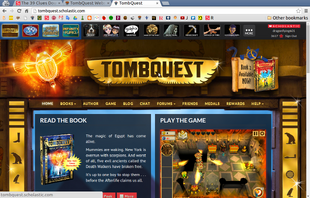 chat with others about TombQuest, and a game, in which you build your own tomb and protect it with monsters.
Ad blocker interference detected!
Wikia is a free-to-use site that makes money from advertising. We have a modified experience for viewers using ad blockers

Wikia is not accessible if you've made further modifications. Remove the custom ad blocker rule(s) and the page will load as expected.